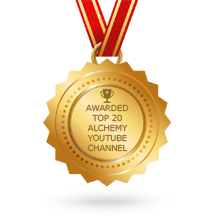 Congratulations to my YouTube Channel Soul Alchemy For Getting the award of TOP 20 ALCHEMY YOUTUBER! Most sincere thanks to Feedspot for the recognition and the plug. It is surely a honor and a pleasure to make such a list!
Youtube Channels were ranked based on following criteria:
Total Youtube channels, subscribers, video views and video uploads
Quality and consistency of videos
Youtube search ranking
Feedspot editorial team objective and subjective review
Feedspot  is founded by Anuj Agarwal. Feedspot helps you keep track of all your favorite blogs, news sites and rss feeds in one place. It makes checking your favorite sites easy as checking your emails!
BE SURE TO LIKE| SHARE |SUBSCRIBE |AND LEAVE YOUR COMMENTS BELOW!